Ingredients
1 pound boneless skinless chicken tenders
2 large eggs
1/2 cup buttermilk
2/3 cup gluten-free panko breadcrumbs
1/2 cup grated parmesan cheese
3/4 garlic powder
1 cup low sodium crush tomatoes
1 teaspoon dried oregano
6 (8-inch) whole-wheat tortilla wraps (my favorites are the chia and quinoa tortillas)
1 cup fresh mozzarella cheese
1 1/2 cups fresh parsley
This was a super simple and quick recipe that the whole family loved!
Preparation:
Preheat oven to 425 degrees, Line a large, rimmed baking sheet with aluminum foil, place a wire rack on the aluminum foil and spray the rack with non-stick cooking spray (set aside)
Put the chicken breast in a large, zip-top plastic bag. With a rolling pin or meat mallet, pound the chicken so it is evenly flattened, about 1/4 inch thick.
In a wide, shallow bowl, whisk the egg and buttermilk together. In another wide, shallow bowl, mix together the panko crumbs, Parmesan cheese, and 1/2 teaspoon of garlic powder.  Dip each chicken breast portion into the egg mixture and then into the Parmesan crumb mixture, pressing the crumbs into the chicken so they stick. Plae the chick on the prepared wire rack
Bake the chicken for 15-20 minutes, or until the internal temperature of the chicken reads 165 degrees on a meat thermometer and any juices run clear. Transfer the chicken to a cutting board, and slice each portion diagonally into 1/2 inch pieces.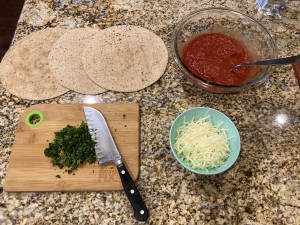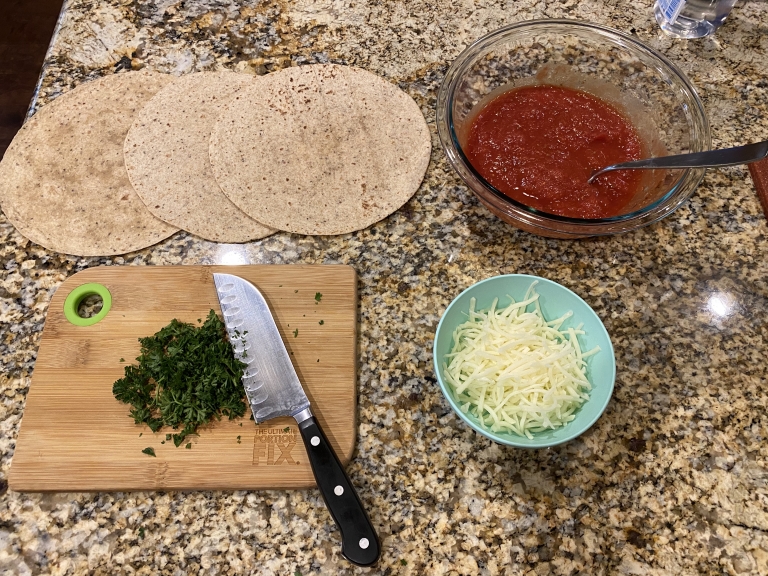 Assembly:
In a small microwave-safe bowl, mix together the tomatoes, oregano, and remaining 1/4 teaspoon of garlic powder. Cover the bowl with a paper towel and microwave for about 1 minute on high until very hot. (set aside)
Wrap the tortilla in a damp paper towel or dishcloth and microwave for 30-45 seconds on high, until warmed.
Divide the chicken slices evenly among the six tortillas and top with the cheese. Spread 1 tablespoon of the warm tomato sauce over the cheese on each tortilla, and top each with about 1/4 cup of parsley. To wrap each tortilla, fold up the bottom of the tortilla, then fold on the side over and fold the other side over the top. Serve the wraps immediately, with the remaining sauce for dipping.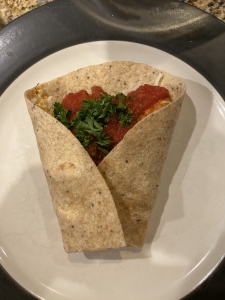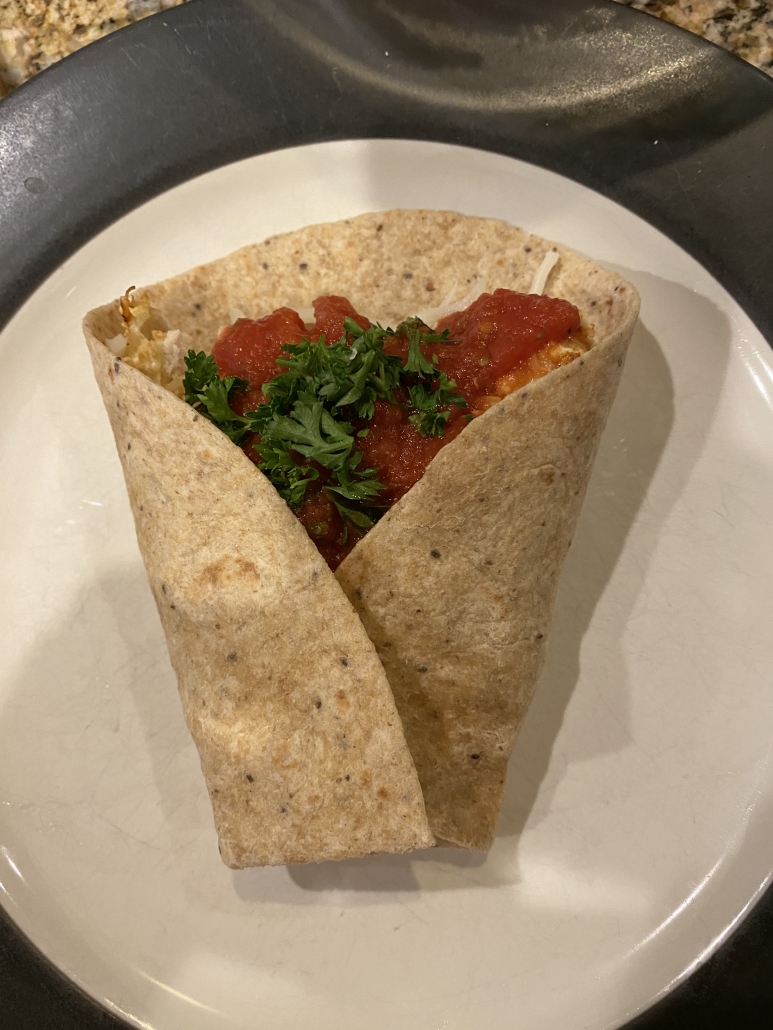 Calories: 373
Fat: 10g; Protein: 30g; Carbs: 33g; Fiber: 8g;
Recipe: Variation of the 30-Minute Mediterranean Diet Cookbook